Over 100 hectares of Cornish maritime heathland has been registered as common land in Penwith (west Cornwall) following an application from Save Penwith Moors, reports The Cornishman.
The application was made by the campaign group under Schedule 2 to the Commons Act 2006, which has so far been implemented only in Cornwall and six other pioneer areas in England. The application was made under paragraph 4, which offers a second chance for registration of a common where the registration was cancelled many years ago under the Commons Registration Act 1965 in circumstances which today look less than satisfactory. The application was referred by Cornwall County Council to the Planning Inspectorate for determination.
This is the seventh such application to succeed in Cornwall, and the only area where such applications have been granted in any number (although a number of applications are now being made in Lancashire); it's also the largest such application to be granted to date. An application for registration of 184 hectares in adjacent parishes remains pending.
The application land, which comprises Carnyorth, Botallack and Truthwall Commons, is classic Penwith moorland heath, with notable prehistoric remains. The registration will confer additional protection from development, and ensure that public access is maintained in perpetuity.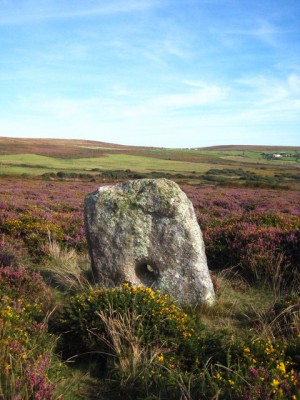 Holed stone on Truthwall Common. Photo: copyright Rod Allday and licensed for reuse under this Creative Commons Licence.